WOW what a ride from start to finish !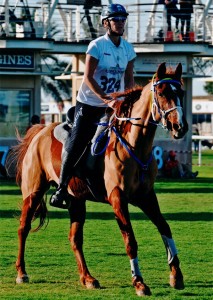 We cannot change the actions of others, but we are each in control of our own actions.
As for the race itself – I knew it would be terribly hard to prepare a horse through the British winter and especially hard to contend with the high winds and flooding that we were experiencing and then to go to the deep sand of the desert and the heat of Dubai. So much so, that I am still totally overwhelmed by the experience and by the fact that we actually did it!
There are so many factors to take into account, from the travelling, to the heat and above all the deep sand, that make this ride so difficult.
My amazing mare LM Bolena has taken the whole experience in her stride and proven yet again how exceptional she is.
As always with endurance it is a team effort and one which would not have been remotely possible without the constant support of Head Crew and husband Andy Thorne, Lee Clark whose talents and support were absolutely invaluable and Brett Corcoran who worked tirelessly and with so much experience especially given his age. In addition, on the day every person out there on the course and in the vet gate, the other riders, their crews, the support vehicles, vets, officials and organisers all helped and supported us through every step. Each extra slosh bottle handed by another crew member, or word of encouragement, aided us around on the day. The spirit of collaboration has left me feeling blessed to have been a part of this experience.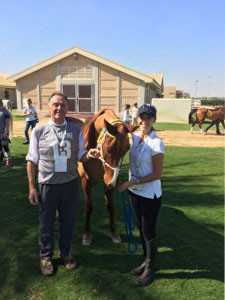 The quality of the horses and the standard of the competition was extremely high, as you would expect in order to tackle this sort of ride, and the vetting was always going to be extremely strict to prevent any horse going back out on course unless they were absolutely certain that horse was still in peak condition. There were around 40 vets working on race day. All of the finishers were drug tested, and all horses who did not complete had a mandatory visit to the clinic for a thorough vet check.
Many people have asked me about the planning and the logistics of the trip itself. Well, we did not have a huge amount of notice to say that we had a confirmed invitation so that presented challenges to the amount of training time available to us. In addition I had hoped to take LR Bold Greyson, who is a seasoned campaigner and had a level of fitness from competing at Samourin, however he was too old being over the 10 year old threshold. Yet again, this only served to reiterate that it is quality of training that is paramount to the endurance horse. Along with our training schedule, I was of course trying to find out as much information about the course, the terrain and the weather conditions as possible. Google is a wonderful thing! So I did a lot of research.
However, I also turned to the experts around me , not least Dr David Marlin, whose research and knowledge has always proven invaluable to me. My "home" team were already gathered around me and working to support me in any way possible, but out of season I reached out to my exceptional crew and kept in close contact with both Lee and Brett. Communication is very important to me, and one of the strengths of my team – or is that just a polite way of saying I talk a lot !
My home team immediately got behind behind me and the plan for Dubai, and I am very lucky to have been working with my farrier Laurence Ridgeway for a very long time, and he knows my horses inside out as well as the sport itself, especially as he is usually a crew member too. Sion Davies also comes in on