WOW what a ride from start to finish !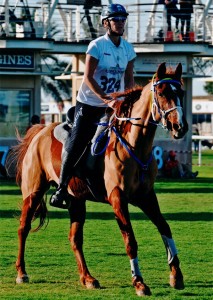 We cannot change the actions of others, but we are each in control of our own actions.
As for the race itself – I knew it would be terribly hard to prepare a horse through the British winter and especially hard to contend with the high winds and flooding that we were experiencing and then to go to the deep sand of the desert and the heat of Dubai. So much so, that I am still totally overwhelmed by the experience and by the fact that we actually did it!
There are so many factors to take into account, from the travelling, to the heat and above all the deep sand, that make this ride so difficult.
My amazing mare LM Bolena has taken the whole experience in her stride and proven yet again how exceptional she is.
As always with endurance it is a team effort and one which would not have been remotely possible without the constant support of Head Crew and husband Andy Thorne, Lee Clark whose talents and support were absolutely invaluable and Brett Corcoran who worked tirelessly and with so much experience especially given his age. In addition, on the day every person out there on the course and in the vet gate, the other riders, their crews, the support vehicles, vets, officials and organisers all helped and supported us through every step. Each extra slosh bottle handed by another crew member, or word of encouragement, aided us around on the day. The spirit of collaboration has left me feeling blessed to have been a part of this experience.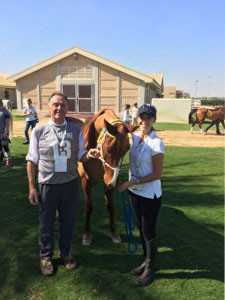 The quality of the horses and the standard of the competition was extremely high, as you would expect in order to tackle this sort of ride, and the vetting was always going to be extremely strict to prevent any horse going back out on course unless they were absolutely certain that horse was still in peak condition. There were around 40 vets working on race day. All of the finishers were drug tested, and all horses who did not complete had a mandatory visit to the clinic for a thorough vet check.
Many people have asked me about the planning and the logistics of the trip itself. Well, we did not have a huge amount of notice to say that we had a confirmed invitation so that presented challenges to the amount of training time available to us. In addition I had hoped to take LR Bold Greyson, who is a seasoned campaigner and had a level of fitness from competing at Samourin, however he was too old being over the 10 year old threshold. Yet again, this only served to reiterate that it is quality of training that is paramount to the endurance horse. Along with our training schedule, I was of course trying to find out as much information about the course, the terrain and the weather conditions as possible. Google is a wonderful thing! So I did a lot of research.
However, I also turned to the experts around me , not least Dr David Marlin, whose research and knowledge has always proven invaluable to me. My "home" team were already gathered around me and working to support me in any way possible, but out of season I reached out to my exceptional crew and kept in close contact with both Lee and Brett. Communication is very important to me, and one of the strengths of my team – or is that just a polite way of saying I talk a lot !
My home team immediately got behind behind me and the plan for Dubai, and I am very lucky to have been working with my farrier Laurence Ridgeway for a very long time, and he knows my horses inside out as well as the sport itself, especially as he is usually a crew member too. Sion Davies also comes in on a consultancy basis, and works with Laurence and I. My vet Ian Beamish from Baker McVeigh and Clements has been working with me and my horses through our competitions and has a huge wealth of knowledge and an eye for detail for the competition sport horse. Then there is Pippa Windell Baker my physio, who works with us on a regular basis and helps set the horses up for competition. For saddles, I use Dean and Ginny from Saddle Exchange who keep my Reactor Panel saddles fitted and in perfect condition for the job at hand. Whilst my Neue Schule bits ensure that each horse is working well and comfortable, with the correct amount of control. My other secret weapon is Lucinda McAlpine, who has the tough job of getting both myself and the horse in sync, and setting me up to succeed.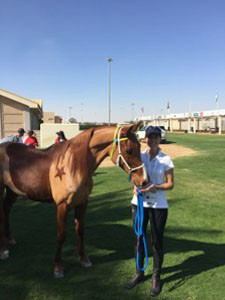 This group work with me and each horse to prep for each competition, so that I am in very professional hands when reviewing my horse and am constantly learning from those with much more knowledge than I. I find this really rewarding as I face each challenge, and see each horse change and develop, for me the sport of endurance is all about the journey in more ways than one. I treat each race, and each horse differently and approach each opportunity on an individual basis. I try to change and develop as much as possible, striving for each year to be better than the last. I can only do this by learning from others.
Of course none of this would be possible without someone staying at home to care for the animals that are left behind, so Cara and Kel deserve a special mention for holding the fort and ensuring that I can go away without worry.
One other part of the process presented me with many dilemmas was the packing! We had a weight allowance to work towards because everything was going by air – try to imagine taking the contents of your car, lorry or horse trailer, as packed for each endurance ride and then squeezing it into 150 kgs of which the weight of the trunk must also be included. Yes, that was a nightmare for me, I packed and unpacked up to the point where I had to send in my finalised packing lists. So at least I had to stop packing and unpacking, and leave everything as it was at that point in time. Re-packing it in Dubai was equally difficult and I am very grateful to Cara for helping pack trunks in the first place, and Ann Dark for all the laughs as we sat on trunks whilst trying to squeeze it all back in for the journey home !
The journey itself was remarkably easy. I know some of the members of Janah through using Peden Transport, and can only say how incredibly helpful and professional they are. Even when receiving an almost daily barrage of questions from me! Our journey was by road from home in Norfolk, across the channel and to Gelissen's in Holland. This is the lairage where the horses stayed overnight before their flight. In order to achieve the rider flight time (all flights were pre arranged and organised for us), we had to make sure we got to Gelissen's in good time. This is also good practise as it avoids any rushing around last minute. We arrived mid afternoon and were able to do a lot of walking before it was time to bed down for the night. The staff at Gelissen's are very accommodating, and the stabling is excellent. It was also exciting to feel we had really embarked on our journey as we met the Dark's, and their horse Drift arrived too.
We made our plan for the next day and prepared to part company with Bolena. This was probably one of the most stressful parts of the trip. I had been counting off elements of the trip as succeeded – first element being that Bolena was trained as well as possible under the circumstances and still fit and sound ready to travel. The next element to achieve was the journey to Holland. The next part of course was the horse flight, with an arrival safe and sound in Dubai. This is where you are truly out of control, and in a holding position, just waiting. Horseless. The whole time I was going to the airport, and travelling, then arriving in Dubai, I was just waiting to hear that Bolena was fine. She was due to arrive around midnight on New Years Eve. Once she arrived, I felt I could really breathe a sigh of relief.
Luckily Bolena settled in really well at the Quarantine stables. We were not allowed out of Quarantine for the first 48 hours, so the 3 barns that comprised the European Quarantine zone was a busy place ! Horses being walked in hand competed for space with horses being cantered, and riders practising trot ups, meanwhile horses also took it in turns to use the turn out pens. There was a lot of coming and going as the stables opened 8am to 12, and then 2pm to 6pm, for riding. You could visit at any other time but these were the exercise periods. Horses had to be in their stables outside of these timelines. Once again, the on site vets and the organisers were excellent, very friendly and approachable, and aiming to make everything as organised and easy as possible. It was a lot of fun to spend time with people from all over Europe, and hear about their horses and their experiences.
I was delighted with how Bolena had travelled, with no ill effects from the journey. The vet was very pleased with her too. Bolena seemed to be particularly enjoying the heat and would bask in the sun in front of her haynet, whenever she was in a turnout pen. I was getting concerned that she was the only horse actually putting on weight during Quarantine, so I was quite relieved once we could go out onto our training track. How ironic that the first time I got to go and ride the track, and rode out into the desert – it rained! yes with lightning! it was very dramatic and another experience I won't forget.
All too soon the days rolled past and it was time to vet, and race day finally came. This was what we had built up to, all the hopes, dreams and plans were over, it was now reality.
I cannot express how fantastic it was to compete at such a large competition, and at that level. This was an incredible thing to go and do with my horse Bolena, and my crew. I had support from all around the world, and would again like to thank each and every well wisher – you always inspire me and help me on my way. The friends I have made over the years also gave me advice and support and have helped me as I've gone from level to level. I have a special group of endurance people around me, and you all know who you are but my especial thanks go to Carlos Larrera and to Jeremy and Heather Reynolds.
Bolena is now safe and sound back home adapting to the rigours of a British winter. She arrived home the night before it snowed ! What a shock. Needless to say she is wearing rather a lot of rugs and being thoroughly pampered.
I hope that I will get the chance to repeat this amazing adventure, and to once again ride through the sand under a hot sun with an unbelievable horse as my partner.
Meantime here is one final memory – I had always wanted to ride in the desert, on an Arabian, preferably my Arabian mare, and towards the end of the race as the sun set, throwing golden and red light across the sand dunes and I rode completely alone in the vastness of the desert, I really could not believe that I was actually there and am so lucky to be doing what I love surrounded by special horses and special people.