LR Bold Greyson – a truly special horse – yet again did his absolute best and gave me the most wonderful ride at the World Championships in Samorin, Slovakia.
We were 36th out of the 134 horses who vetted in to the competition. This was my first World Championship ride and I am absolutely delighted with our position, with having completed and with Greyson's amazing performance all day.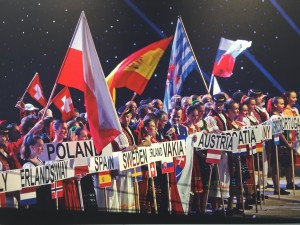 It was of course disappointing for everyone and especially for the other riders and their crew that we did not all make it out there as a team. Sadly both Chris Wray's horse Takwenya and Fiona Griffith's horse Oliver Twist were not 100% and had to be pulled before travelling. The only consolation I suppose was that they did not make the journey out there and then discover they had an issue. One thing is for sure with endurance, your horse needs to be absolutely 100% before the start. Both riders did the only thing they could do, and had to withdraw. That left the two of us, Carri Ann Dark on her beautiful grey gelding HS Drift , and myself.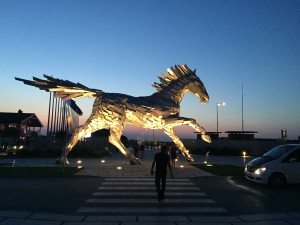 I headed out on the three day drive with my husband Andy Thorne, and also took my reserve mare LM Bolena. This is my lovely chestnut mare that I took to Dubai in January for the HH Sh Mohammed Cup. The journey out there ran very smoothly and we arrived in good time to allow the horses to settle into our stabling and paddocks about half an hour away from the venue itself. We are very lucky to have made good friends in Slovakia, and it was great fun to catch up with Lucia and Vladimir who own the stables where we stayed. They breed and train pure Shagya horses for endurance, and we have become very good friends with them since meeting them at the European Championships.
We settled into a good routine with the horses, and also enjoyed the unseasonably hot weather. Making the most of it after quite a wet Norfolk summer. We were soon joined by the Dark family of Carri Ann, and mother Ann and father Roger with Drift. The horses were all very settled, and enjoyed the weather as well as our final training rides. Drift and Greyson both go well together, and Carri Ann and I had decided that even though we did not have a full team we wanted to fly the Team GB flag together and would ride as a team.
All too quickly it was time to start sorting things out at the venue. The first and foremost of course was to decorate our block of stables, and Carri Ann duly produced a full bag of every shape and size of flag, plus bunting. We set to and soon had our section of the barn looking very patriotic. It was great fun and we were very pleased with our results.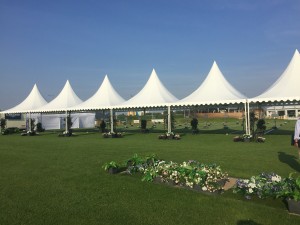 Our first big event was the Opening Ceremony. Having been lucky enough to be at the venue the year before, I knew this would be a spectacular event in one of the huge indoor arenas. The venue is incredible and has been set up by Mr Mario Hoffman and his Napoli enterprise and include indoor and outdoor arenas for jumping, and dressage, a racetrack, restaurants with indoor and outdoor eating areas, plus a new hotel which is just wonderful. The endurance course is then set up in a daisy pattern of loops, as opposed to last year where we went to an external vet gate and back again to the venue.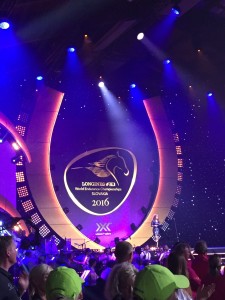 We felt super smart getting ready for our parade. By this time we had been joined by a full EGB Management Team consisting of Chef – Liz Finney, Physio – Lee Clark, Vet – Hannah Kelly, Farrier – Kelvin Lymer. To parade Liz and Hannah joined us wearing their GB shirts, and Khaki trousers. Meanwhile Carri Ann and I wore our blue GB polo shirts, white breeches and our luxurious long blue suede boots with red tassles, which had had been made especially for us by Fairfax and Favor. We felt and looked great. The parade was quite emotional – it suddenly hits you full in the face that are you there to ride for your country, and I truly cannot put into words how incredible it is have this opportunity. I was especially lucky that not only were my crew there – farrier Laurence Ridgeway, physio Katie Dorman, Stephen Keane, Vicki Hewitt, and of course my husband Andy, but also a group of supporters including Andy's children Christopher and Rebecca, Laurence's wife Cara and children, as well Becky Parsler the lucky winner of our Young Rider Camp competition. We duly paraded and then enjoyed the rest of the amazing opening ceremony which included the opening address by FEI president Ingmar de Vos, Slovakian dances and music, singing, light displays and some wonderful horsemanship displays of bareback and liberty work by the Flying Frenchman, Lorenzo.
The following day we had to be certain everything was in order for ride day. So with crewing sorting, and having moved ourselves and horses in, our next step was to make the horses look fabulous ready for vetting. Having two grey horses meant they both matched nicely but also that they had to look sparkling clean. We ensured they were matching in terms of tail plaits, ribbons, and a very fancy GB sparkly motif on their hind quarters – not sure how Carri Ann kept her hands steady but it looked just perfect on them. We felt super smart in our nice Team GB gear and chose this time to wear our white TeamGB polo shirts, with our red, white and blue Team GB riding tights and our boots. For ride day our outfit would be very smart white sports riding shirts, again with our GB logos on full display (organised by Ann Dark), and our blue riding tights. Carri Ann went the extra mile with some very funky red, white and blue riding trainers – a must have purchase for next time !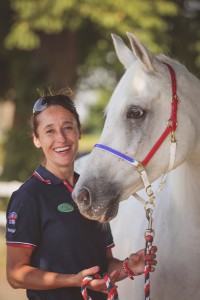 The horses behaved well for vetting, and I finally declared Greyson as my chosen horse. He had been my top horse from the get go, but it is a wonderful luxury to have a reserve horse on hand in case the unthinkable happens.
We headed off to bed early that night, in the hope of catching some sleep. Everything was organised to the last T , and we felt well prepared and organised. Most important of all the horses were happy and calm, eating and drinking well, and looking amazing. Really at this point, you just take a deep breath and sit back, and say – Well, we made it, everything else is just a bonus now. We cross the start line and take it loop by loop.
Morning came and although still dark we were all up and about and getting ready in good time. Carri Ann and I had decided that as we were not in team contention, we would head out quietly at the back at a much more sedate pace. We rode the horses quietly and kept a good eye on the activities going on the other side of the bridge that led to the start. It was quite a small area for warm up by the start line and we did not want to get dragged along at high speed with the front runners. Once the starters left we headed over the bridge, and walked to the start line, where we trotted quietly over the start side by side the picture of calm ….. until Greyson, the little monkey, snooked his nose forward and took off at the speed of light ! after a few very spirited broncs he finally settled back down, by which time Carri Ann had joined us still mozey-ing along all steady and quiet. Her only comment was a cheeky "well sat". Dear Greyson – you just have to love him. A horse in a million with a personality to match.
The loops rode well, but were very slippery in places, with the grass being dry and a lot of sharp twists and turns to keep everyone on their toes. The terrain changed rapidly from grass, to stony tracks, or roads and we had to keep really aware of the going and our speeds. We waited together in the vet gates to ensure both horses presently together, and the horses were both fantastic. They cantered along side by side totally in time, and gave the two of us an incredible time. During the penultimate loop we actually dared to think that we might cross the finish line side by side but fate was to intervene. The rain came and the tracks become very slippery in places, and during one particular down pour Drift slipped. The unthinkable happened and he trotted up lame in the last vet gate. Only 20 km remained – one last loop before the finish. We were all devastated. Greyson continued alone, the professional that he is and did not falter once. Carri Ann had already left for the compulsory visit to the treatment tent, and I would not see her until we arrived there for a post finish check ups. This is the tough side of endurance, and it takes really tough personalities to deal with these kind of blows. I felt so bad for all of the Dark team, and we have all been in this position so we know there is not much that can be said, and certainly no way to make anyone feel better. They dealt with it with great humility, and kept smiling throughout despite such a bitter blow. That is the spirit of endurance.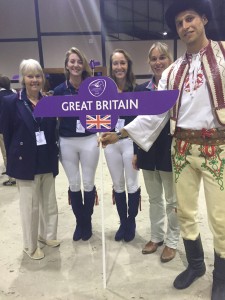 It was, such an amazing feeling to cross the finish line with my crew and family around me, the management team cheering us on, and aboard my special horse Greyson. I cannot put into words what this horse has gifted to me, two Championships back to back, and countless miles and time spent together. He is truly a horse of a lifetime.