Royal Windsor Endurance – a showcase of Endurance featured by the kind generosity of Royal Windsor Great Park and HM Queen Elizabeth II.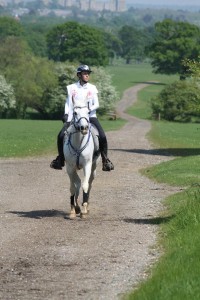 What an incredible privilege to ride in HM The Queen's back garden, and to have competed here on each occasion is even more special.  I will never tire of this opportunity, of seeing the Royal Palace, riding along the Mews, using the Guards Polo tracks, and enjoying the stunning views and statues.  Not to mention – one of the main major attractions of this ride – to ride around Royal Ascot Racecourse – What an exceptional ride to do.
This year I was delighted to be taking LR Bold Greyson, my European Championship horse, and much loved beautiful white gelding.  This horse is special inside and out, he is a kind, humble, gentle horse, and he absolutely loves to compete.  He turns into a spirited character, who flags his tail at every opportunity and absolutely adores his job.
I was also so pleased to have many international friends visiting again this year,
including the USA riders and married couple, Heather and Jeremy Reynolds, and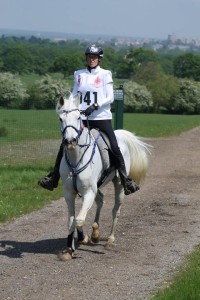 their crew of "mom" Jean, brother Johnathon, friends Sarah, Lynn and Adam.  Lisanne Dorian also flew in from the USA with her special white mare Tulip, along with crew from South Africa Eone Willemsen.  One of the many amazing things about endurance is the friends that we make around the world.
Greyson yet again proved what an incredible and reliable horse he is, despite the deep ground to yet again more English rain, he dug deep and came home 18th out of 67 competitors.  This horse is one in a lifetime, and a joy to ride.  I am so indebted to be able to own and compete on him.
Huge thanks must go as always to a top international crew team made up of my husband Andy, my farrier Laurence Ridgeway, equine physio Lee Clark, and Stephen Keane who although new to the job as taken to crewing like a duck to water.  Thank you too to Stephen's partner Chris, for joining us and taking part so enthusiastically.